Historic Districts of Spokane
Browne's Addition National Register Historic District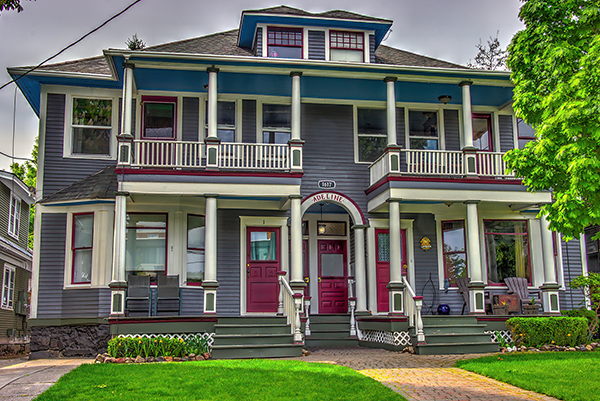 The National Register of Historic Places Browne's Addition Historic District encompasses a well-preserved residential section south of the Spokane River gorge and immediately west of the city center. It was platted in the 1880's and intensively developed for well-to-do clients around the turn of the century. Within its boundaries is a concentrated architectural aggregate including nearly every residential style fashionable in the Pacific Northwest between 1880 and 1930. Moreover, the district is replete with coniferous and deciduous trees, mostly exotic stock, planted along the streets and in the neighborhood park in response to recommendations made to the Board of Park Commissioners by Olmsted Brothers Landscape Architects of Brookline, Massachusetts in 1907.
**PLEASE SEE THE SPOKANE REGISTER HISTORIC DISTRICT OVERLAY ZONE FOR MORE INFORMATION ABOUT THE LOCAL HISTORIC DISTRICT IN BROWNE'S ADDITION**
Not all properties in the Browne's Addition National Register Historic District are also included in the Browne's Addition Historic District Overlay Zone - the local register listing boundaries are smaller.
Period of Significance: 1881 - 1930
First Avenue | Second Avenue | Third Avenue | Fourth Avenue | Fifth Avenue | Cannon Street | Chestnut Street | Coeur d'Alene Street | Elm Street | Hemlock Street | Maple Street | Oak Street | Pacific Avenue | Poplar Street | Riverside Avenue | Sunset Boulevard

First Avenue
1623 W First Ave
1631 W First Ave
1725 W First Ave
1728 W First Ave
1814 W First Ave
1818 W First Ave
1823 W First Ave
1824 W First Ave
1829 W First Ave
1909 W First Ave
1910 W First Ave
1914 W First Ave
1923 W First Ave
2003 W First Ave
2006 W First Ave
2011 W First Ave (Hieber House)
2014 W First Ave
2022 W First Ave
2027 W First Ave
2101 W First Ave
2114 W First Ave
2115 W First Ave
2123 W First Ave
2201 W First Ave
2205 W First Ave
2221 W First Ave
2225 W First Ave
2231 W First Ave (Russell House)
2303 W First Ave
2315 W First Ave (Reid House)
2316 W First Ave (Campbell House)
2325 W First Ave (Odell House)
2328 W First Ave
2336 W First Ave
2340 W First Ave (Finch Mansion)
Top of Page
Second Avenue
1804 - 1808 W Second Ave
1814 W Second Ave
1824 W Second Ave
1905 W Second Ave
1908 W Second Ave
1911 W Second Ave
1923 W Second Ave
1927 W Second Ave
1928 W Second Ave
2005 W Second Ave
2016 W Second Ave
2019 W Second Ave
2024 W Second Ave
2028 W Second Ave
2029 W Second Ave
2107 W Second Ave
2114 W Second Ave
2118 W Second Ave (Phelps House)
2124 W Second Ave (Fotheringham House)
2128 W Second Ave (Fotheringhman Residence)
2208 W Second Ave (Patsy Clark Mansion)
2222 W Second Ave
2314 W Second Ave
2315 W Second Ave
2320 W Second Ave
2325 W Second Ave
2404 W Second Ave
2414 W Second Ave
2418 W Second Ave
2421 W Second Ave
2424 W Second Ave
Top of Page
Thrid Avenue
1903 W Third Ave
1907 W Third Ave
1913 W Third Ave
1914 W Third Ave
1917 W Third Ave
1918 W Third Ave
1921 W Third Ave
2003 W Third Ave
2007 W Third Ave
2012 W Third Ave
2015 W Third Ave
2020 W Third Ave
206 W Third Ave
2308 W Third Ave
2317 W Third Ave
2328 W Third Ave
2406 W Third Ave
Top of Page
Fourth Avenue
1926 W Fourth Ave
2005 W Fourth Ave
2012 W Fourth Ave
2013 W Fourth Ave
2017 W Fourth Ave
2022 W Fourth Ave
2025 W Fourth Ave
2103 W Fourth Ave
2109 W Fourth Ave
2217 W Fourth Ave
2227 W Fourth Ave
Top of Page
Fifth Avenue
2103 W Fifth Ave
2112 W Fifth Ave
2117 W Fifth Ave
2121 W Fifth Ave
2124 W Fifth Ave
2127 W Fifth Ave
2217 W Fifth Ave
2222 W Fifth Ave
Top of Page
Cannon Street
180 S Cannon St
215 S Cannon St
317 S Cannon St
320 S Cannon St
321 S Cannon St

Top of Page
Chestnut Street
151 S Chestnut St
176 S Chestnut St
415 S Chestnut St
421 S Chestnut St
West 4th Avenue & South Chestnut Street

Top of Page
Coeur d'Alene Street
214 S Coeur d'Alene St
218 S Coeur d"Alene St
223 S Coeur d'Alene St
317 S Coeur d'Alene St
364 S Coeur d'Alene St (Page-Ufford House)
406 S Coeur d'Alene St
415-417 S Coeur d'Alene St
416 S Coeur d'Alene St
420 S Coeur d'Alene St
Top of Page
Elm Street
11 S Elm St
108 S Elm St
145 S Elm St
147 S Elm St
Top of Page
Hemlock Street
108-110 S Hemlock St
145 S Hemlock St
428 S Hemlock St
504 S Hemlock St
512 S Hemlock St
514 S Hemlock St
518 S Hemlock St
Top of Page
Maple Street
150 S Maple St
Top of Page
Oak Street
6 S Oak St
104 S Oak St
108-110 S Oak St
144 S Oak St
146 S Oak St
152 S Oak St
155 S Oak St
Top of Page
Pacific Avenue
1613 W Pacific Ave
1617 W Pacific Ave
1623 W Pacific Ave
1630 W Pacific Ave
1632 W Pacific Ave
1634 W Pacific Ave
1635 W Pacific Ave
1702-1710 W Pacific Ave
1703-1707 W Pacific Ave
1713 W Pacific Ave
1715 W Pacific Ave
1717 W Pacific Ave
1718 W Pacific Ave
1725 W Pacific Ave
1803 W Pacific Ave
1806 W Pacific Ave
1807 W Pacific Ave
1813 W Pacific Ave
1819 W Pacific Ave
1820 W Pacific Ave
1830 W Pacific Ave
1905 W Pacific Ave
1924 W Pacific Ave
1925 W Pacific Ave
1928 W Pacific Ave
1931 W Pacific Ave
2001 W Pacific Ave
2004 W Pacific Ave
2009 W Pacific Ave (Avenida Apartments)
2012 W Pacific Ave
2017 W Pacific Ave
2020 W Pacific Ave
2108 W Pacific Ave
2109 W Pacific Ave
2117 W Pacific Ave
2127 W Pacific Ave
2204 W Pacific Ave
2208 W Pacific Ave
2230 W Pacific Ave
2236 W Pacific Ave
2301 W Pacific Ave
2306 W Pacific Ave
2312 W Pacific Ave
2319 W Pacific Ave
2320 W Pacific Ave
2327 W Pacific Ave
2328 W Pacific Ave
2403 W Pacific Ave
2404 W Pacific Ave
2407 W Pacific Ave
2413 W Pacific Ave
2414 W Pacific Ave
2417 W Pacific Ave (Wood House)
2418 W Pacific Ave
2424 W Pacific Ave
2425 W Pacific Ave
Top of Page
Poplar Street
104 S Poplar St
142 S Poplar St
Top of Page
Riverside Avenue
1630 W Riverside Ave
1719 W Riverside Ave
1720 W Riverside Ave
1722 W Riverside Ave
1730 W Riverside Ave
1740 W Riverside Ave
1807 W Riverside Ave
1811 W Riverside Ave
1818 W Riverside Ave
1824 W Riverside Ave
1827 W Riverside Ave
1907 W Riverside Ave
1910 W Riverside Ave
1916 W Riverside Ave
1920 W Riverside Ave
1926 W Riverside Ave
2003 W Riverside Ave (Hussey-Borgeson House)
2008 W Riverside Ave
2019 W Riverside Ave
2020-2030 W Riverside Ave
2027 W Riverside Ave
2036 W Riverside Ave
2103 W Riverside Ave
Top of Page
Sunset Boulevard
2008 W Sunset Blvd

National Historic Register Nomination (PDF)