Historic Properties of Spokane
Pacific States Electric Building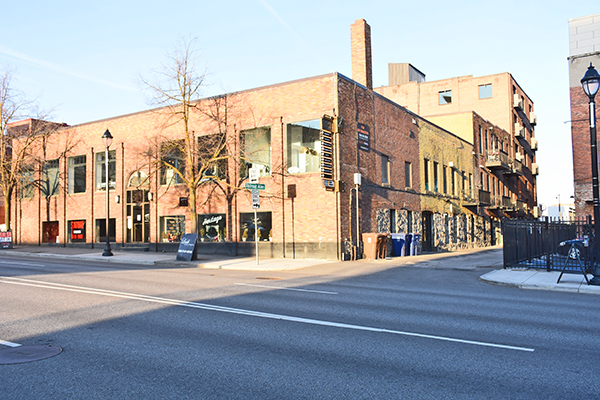 Wells & Bertelson / Alloway & Georg
N/A
Built in 1928 to house the Pacific States Electric Company, the building includes portions of the
former Washington Machinery and Supply Company that had been expanded in 1907 and 1910. The unreinforced brick (in color tones from green to red) building fronts toward the east along Monroe Street. Railroad Alley Avenue fronts along the north side and the BNSF Railroad
viaduct is across a driveway to the south. Rising from a concrete basement wall, the front façade is one-and-one-half stories in height, one story over a daylight basement. A sheet metal coping caps the low parapet wall. Symmetrically-arranged the centered, semi-circular arched entry bay, is flanked on each side by three basement/ground floor bays and four first floor bays. Brick pilasters that terminate in a brick cap intersect a brick soldier course at the tops of the window bays. The pilasters flank the entry bay and divide the façade into bays, and mark the corners. Brick soldier courses run between the pilasters at the heads of the basement and the first floor windows. Windows are single-panel fixed glass (originally industrial steel sash). The front entry features a leaded glass sunburst transom window within a voussoired brick header arch and five radiating brick rays. Invoking Classical elements, but simplifying them, the design might be termed Starved Classicism (or perhaps Electric Moderne).
Because of slope and changes in grade, the north side is two stories above grade, and the south side is one story above grade.