Historic Properties of Spokane
Washington Cracker Co.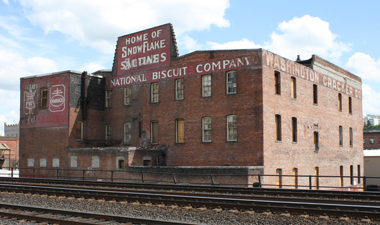 The Washington Cracker Co. building was developed by Portland entrepreneur Herman Wittenberg for his rapidly expanding biscuit and candy-making business in 1891. The business left a legacy of buildings on the west coast, including two in Portland that are individually listed on the National Register of Historic Places. The building is significant for its place in the patterns of local history, and specifically for its association with historic events that had a significant effect on the city. The building is important for its association with the rapidly growing biscuit and candy industry of the late nineteenth century and as a good representation of a vernacular industrial warehouse that embodies the distinctive characteristics of a type that is particularly representative of the buildings for which this historic district is known. The building also retains integrity of location, design, materials, workmanship and association.
The Washington Cracker Company Building is a contributing property in the East Downtown Historic District, listed on the National Register of Historic Places 8/29/2003.