Historic Properties of Spokane
Dyar-Kiesling House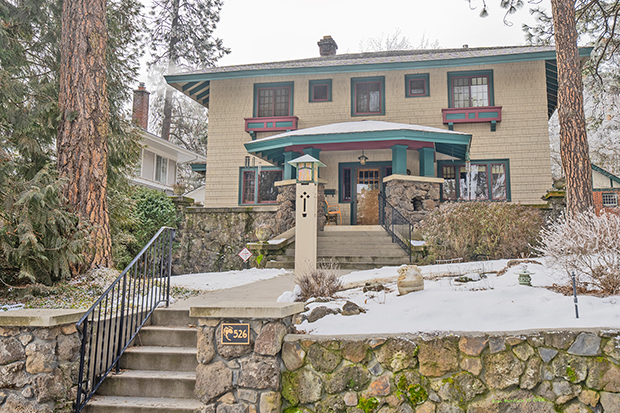 Franklin Manz/C.A. Landsdowne
This unusual house was designed by Franklin Manz, prominent Spokane architect, and built by Rockwood home builder C.A. Lansdowne in 1912 for a reported $13,500 - a sizeable sum of money for that time. The American Foursquare-style home was purchased by Ralph E. Dyar, famed author, playwright and former director of the Spokesman-Review promotion and research department. Dyar, a descendant of one of the first passengers brought to America aboard the Mayflower, lived in the home for forty years together with his wife Else Kiesling Dyar. The house changed hands several times after the Else's death in 1967, and the property is currently owned by Vernon and Janine Arneson.
The Dyar-Kiesling House is a contributing property in the Rockwood Historic District, which was listed on the National Register of Historic Places 4/14/1997.
The home is also listed on the National Register of Historic Places as the McMillen – Dyar House.