Historic Properties of Spokane
Kemp, Charles J. and Maud, House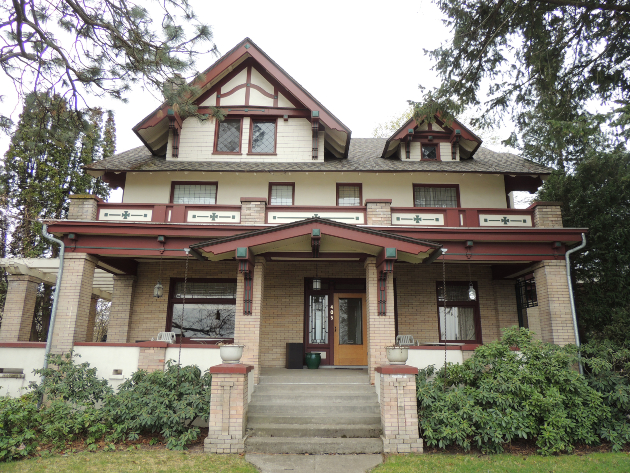 N/A
The Charles J. and Maud Kemp House at 404 W. Sumner Avenue is a two-story house on a
raised basement with a steeply pitched, side gable roof with a large, front-facing gable and a
series of dormers. The roof on this north side is embellished with deep eaves with exposed
rafters and extended beam ends. The building footprint is irregular, in part due to a series of
outdoor spaces, including a wrap-around porch on the east and north (front) facades, a deep entry
porch on the east (right) side of the rear façade, and a porte cochere with an upper-level covered
porch on the west side, which in turn leads to a pergola in the west side yard. The brick masonry
house is finished in beige brick with dark red mortar at the first-floor level and stucco at the
second floor. The attic level is also finished in stucco with false half-timbering details. The
visible foundation is finished in rockface stone in a random coursed ashlar pattern that covers a
rubble stone foundation, and the roof is clad in composition shingles. The Arts and Crafts style
house with Tudor Revival details was designed by Spokane architect Alfred Jones and
constructed in 1910.